Scala Hosting is in this busines from more then 13 years that have grown with constant improvement and complete dedication to provide the best services to their users. This company has 2 data centers which is located in its native country and one more in the EU. It has hosted around 7 lakhs domains and have more than 50 thousand customers. This a US based hosting provider that you can be reliable upon.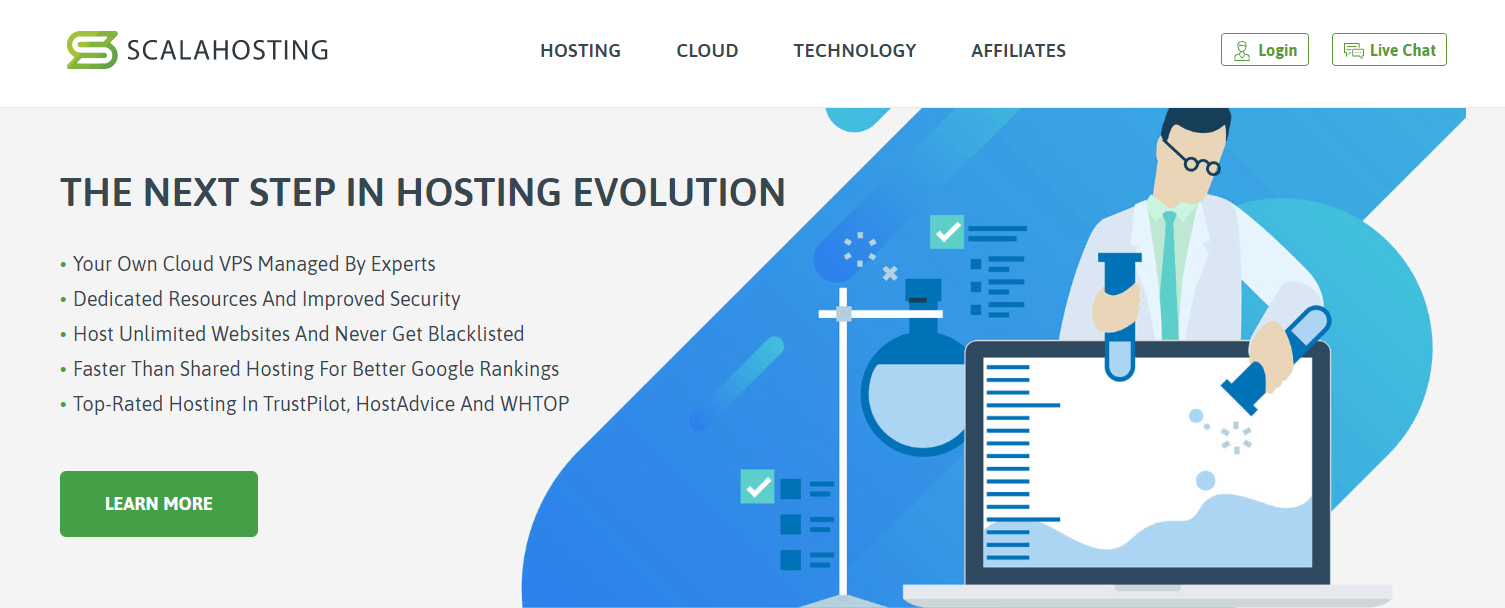 There are several amazing features that you can enjoy with Scala Hosting. Lets have a look on the most essential ones.
Excellent Uptime – 99.99%
One of the most important factors in hosting that you usually don't notice when everything works great is the uptime, you just want your site to be all time available. As per the industry standards, they also offer a 99.9% uptime guarantee. However, it is reasonable guarantee that also has a limit to monthly downtime for around 43 minutes which come to 1.5 minutes per day. If they are not able to cope with their policy, you can also get hosting credits where your logs can also be provided as proof.
Decent Speed
One more important factor to consider before buying a hosing is the speed of the site, you should always know that website can be fast if the servers allow too. A website with faster speed shows to have efficient engagement with customers, can get more recurring visitors, sell more products and more such. It takes nearly very less time to load a document with is quite impressive. The average loading time is around 0.76 seconds which is pretty good. So yes, Scala hosting is good to handle a decent amount of traffic.
Responsive Support
Now matter how good you are with hosting, there is always one or the other issues that keep comping for which you will need to have good support from the hosting provider. With Scala hosting you can get excellent support from the team where you can find instant response to all your queries. They have a well-trained team who are always ready and eager to help you. They have a great well-informed staff and knowledgeable agents. You can easily connect them via phone call or chat.
WordPress Optimized
There are lot of users who go for WordPress for easy optimization. With Scala hosting you can enjoy a special flavor for WordPress focused users which is great to use as they have a SWordPress manager that is nothing but a proprietary management tool. You can use this tool for easily adding WP sites, enabling automatic WP updates, optimizing the security and more. You can also enable the security lock option that will prevent the site from side scripting attacks. Undoubtedly, Scala Hosting is a great option for WordPress hosting.
Scala Hosting is one of the leading companies that is been in this industry from a very long time. Scala covers all essential specifications needed for the sit which is much better comparatively much better than their competitors. It is surely worth investing.
Thank You